Courtney Hammons and her husband pulled into a church parking lot in Brentwood, Tenn., near Nashville on a Sunday afternoon this month to meet the seller of a 2007 GMC Yukon they saw advertised online.
The couple were not worried about being robbed or becoming victims of the shenanigans that can happen with a vehicle purchase that originates from an online classified ad. They had a reason for being at ease: The ad that the couple responded to was posted on Facebook via a new feature called Marketplace, which the social media giant quietly rolled out last fall.
One analyst who tracks online advertising believes that with a few improvements, Facebook, because of it reach, has the potential to be a major force in used-car sales.
Unlike with Craigslist, the Hammonses knew who they were dealing with. The seller's full name was in the ad, and they could see how long the seller had been a member of Facebook. They viewed this and other basic information before deciding to check out the vehicle.
"We met another soccer mom in a church parking lot," says Courtney Hammons. "And she said, 'Here, drive it around and see what you think of it.' I was very comfortable with the process, and it was stress-free."
Hammons and her husband did not look at dealerships' local inventories or check other major online venues, such as Craigslist, eBay Motors, Cars.com and Autotrader. "We have a great dealership that we love, but these were very specific needs," says Hammons, who, with her husband, is a foster parent for children awaiting adoption.
Three days later, after two mechanics certified the high-mileage Yukon to be in outstanding condition, $6,500 in cash changed hands, and the big seven-seat SUV went home with the Hammonses.
The couple's purchase makes them early adopters in what could turn out to be the next major online used-car venue, and one that, because of its massive user base, has the potential to someday become the world's largest.
If just 4 percent of Facebook's 1.7 billion global users turn to Marketplace to buy and sell used cars, Facebook would pass reigning giant Craigslist, as well as Autotrader, Cars.com and eBay Motors.
For now Facebook Marketplace isn't likely going to steer many buyers away from the used-car departments of new-car dealerships, says AutoPacific analyst Dave Sullivan.
"Facebook Marketplace and Craigslist still can't offer to finance a used car, so they aren't competing," he says. "Certified pre-owned vehicles set dealerships apart from Craiglist and Facebook and every other used-car site out there. If Facebook was looking for revenue, they [would] allow dealerships to post used cars on Marketplace for a fee."
Image change?
But first Facebook needs to add new features and recast Marketplace's early image as a source of good used inexpensive products, such as iPhone cases, furniture and bicycles, says Brian Blum, a senior analyst who covers Facebook for AIM Group, a Florida consulting firm that tracks online advertising and interactive media.
"Marketplace doesn't have as much functionality as competitors who have been out for awhile," says Blum. "It may or may not have as many active users."
While Facebook does not share user data, Blum says, "I think the main advantage is the potential reach."
Marketplace is currently available in only the United States, Great Britain, Australia and New Zealand. Facebook's director of product management for Marketplace, Mary Ku, says more markets will eventually come online, but gave no timetable.
Facebook members for years have been able to use the giant social media site to buy and sell. Typically, a user would set up a page focused on a specific item, such as the Ford Mustang. Then, they'd create a user group inviting other Mustang fans to join and post ads offering parts or cars for sale or ads from users seeking parts or cars.
Those pages still exist on Facebook. And it was from those pages — and there are tens of thousands of them for all sorts of consumer products — that led Facebook to create Marketplace.
For now, Marketplace is not prominently displayed on Facebook. Some digging is required to access it. To view Marketplace ads, a Facebook member clicks "Marketplace" under the "Explore" label on the left side of the page. Items are grouped into eight categories. Ads for secondhand cars are parked under the "Vehicles & Bicycles" label. Once there, users can search the ads for vehicles. But, unlike other online used-car sites, the search area is limited to a 100-mile radius.
Loads of ads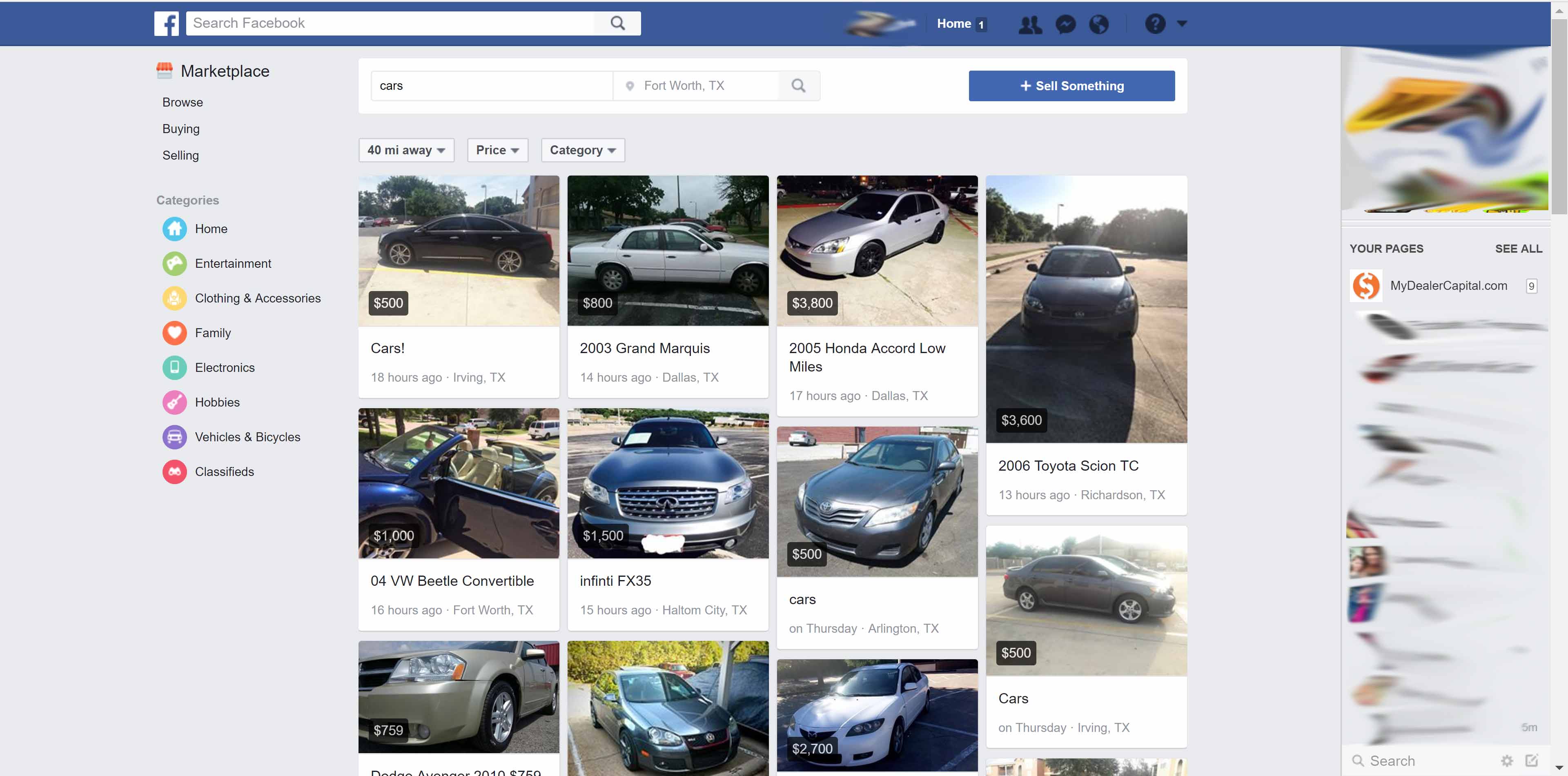 Still, Facebook users are posting ads by the minute.
In the Detroit area, thousands of vehicles are listed on Marketplace. Most of the ads are for older, high-mileage cars that would not normally be offered on the used-car lots of franchised dealers, notes Libby Murad-Patel, vice president of marketing and strategic insights for Jumpstart Automotive, a California marketing firm.
"I think consumers are still going to turn to dealers' websites for vehicles at higher price points. They are looking for VIN specific data they can back up with a history report," she said.
But they show some of the functionality issues Blum mentions. Many ads are bare bones in terms of pictures and descriptions. A typical ad will have at least one picture of the vehicle, a brief description, often with no mention of total miles or condition, and a prompt to contact the seller.
And sifting through those ads exposes some issues Facebook needs to sort out. Say a buyer is looking for a classic MG sports car in Detroit. A recent search did indeed recently bring up several dozen MGBs and Midgets, but also ads dietary supplements, camera equipment, and even a litter of pigs. Anything with the letters "MG" in the ad appeared in the search results.
Ku, the Facebook executive, would not give specifics on how the company is working to improve Marketplace, but she does acknowledge that upgrades are coming.
"One of things we are always looking to improve is how we put the right product in front of people, how we ensure they are seeing the products they want to see. As we understand the kinds of cars they are looking for, we can put more in front of them," she says.
The old order
Online used-car ads dethroned newspaper and magazine classifieds early this century for three main reasons: cost, speed and variety. With 60 million visitors monthly, Craigslist dominates the online advertising space, especially for used cars. Buyers and sellers pay nothing to use it.
A seller placing an ad on Craigslist, for example, is given as much space as needed to write the ad, and can post up to 24 pictures. It takes less than five minutes to post a used-car ad on Craigslist. In a 14-hour period in Detroit recently, individual sellers — not used-car dealers — posted more than 1,540 ads for used cars on Craigslist.
Though the selection is enormous, Craigslist has a dark side: It attracts criminals, mostly because the ads often don't require personal or specific location information.
More than 100 people responding to Craigslist ads have been killed since the site started in San Francisco in 1995, according to The Washington Post. Thousands more have been robbed or been victims of other types of scams, such as identity theft.
'Authentic selves'
Although Facebook isn't specifically touting users' ability to see the identity of who places ads, Ku agrees it is an advantage. "People are their true, authentic selves on Facebook and that gives you a sense of who you are dealing with before you even meet up. You can also see where you have mutual friends," she said.
But Marketplace won't be immune to scammers, said Blum, the analyst. "Even though you can see who you are talking to because they are a Facebook member, if you are savvy enough on social media, you can create fake profiles as there as well.
"People who want more security tend to go to more-established sites, such as Autotrader and Cars.com, although those tend to skew more towards new cars."
Beyond Craigslist, Facebook faces several other established competitors:
• Autotrader has 14 million monthly shoppers and lists about 4.4 million cars, about half of which are used cars. Autotrader ads range from $25 to $100 and offer an array of add-ons.
• Cars.com averages about 1.8 million used car ads and offers free basic ads and charges either $20 or $49 for an ad that includes a free Carfax report and other spiffs.
• eBay Motors charges nothing to list a used vehicle. But if it sells, the online auction site charges $60 for vehicles priced at $2,000 or less and $125 for $2,000 and above. eBay had 86,619 used cars listed one day in mid-May.
'Playing catch-up'
Cars.com, eBay and Autotrader offer nationwide searches, while Craigslist and Marketplace are strictly local. Adding functionality, by expanding the geographical search area is one way Facebook could expand the appeal of Marketplace.
Says Blum: "The biggest weakness is that Facebook is playing catch-up, and functionality is not on the same level as their competitors. But that is certainly a temporary weakness because Facebook has the resources and determination to build pretty much whatever it wants, copy the functionality from other sites or buy one of those other apps if it chooses."
If those changes are coming to Marketplace, Ku won't say. "Right now, Marketplace is focused on buying and selling within your community," she says. For now, Blum says he doesn't view Marketplace as competing with the established online used-car sites.
Says Blum: "Facebook is taking it very slowly right now with Marketplace. I think the main advantage to Marketplace is not that it is hyper local or more secure. It's that there are 1.7 billion Facebook members, and they all get Marketplace on their app. It's the potential reach."
As for Courtney Hammons, she said she would not hesitate to use Facebook Marketplace to either buy or sell a used car. Says Hammons: "Marketplace provided us the opportunity to find exactly what we need on our own time without having to go back and worth with the salesperson."